Bali's underwater world provides everything divers dream of. At our house reefs in PADANG BAI, you find a nice wall, colourful coral bummies inhabited by thousands of tropical reef fish, as well as great muck diving. Sea turtles and reef sharks are regularly seen and the usually good visibilty and gentle currents make the Padang Bai area easy to dive. 
The more challenging dive sites MIMPANG, TEPEKONG, BIAHA and CRYSTAL BAY, are the best sites to spot sharks and  especially from July to November, you even have the chance to encounter the giant sunfish also known as Mola-Mola.
One of the diving highlights is MANTA POINT, where the majestic Manta rays are attracted all year long by the several cleaning stations. Nobody should miss the chance to see them "flying" their rounds, while waiting for their turn to get their Spa treatment.
Wreck enthusiasts are not left behind, too, as the world's famous 'USAT LIBERTY' wreck lies near the shore of TULAMBEN. Fully covered in coral and anemones, it's home to thousands of colourful fish and fascinates new divers as well as dive veterans.
For muck diving and macro lovers, AMED is the perfect choice. The black sandy dive site hosts loads of amazing critters like nudies, tiny frogfish, ghostpipe fish and all kinds of crabs & shrimps. 
The north side of NUSA PENIDA is home to the healthiest coral reefs in Bali. Its moderate currents  provide great drift dives – just lean back, relax and fly over the colourful underwater landscape…
Absolute Scuba Bali, located centrally in East-Bali, is the perfect place to discover the islands greatest dive spots. No need to drive for hours to reach your desired dive site. Just a boat ride away from the top spots – and Tulamben is also just an  easy 1.5 hour car drive.
Most of the dive sites are also suitable for snorkeling. Further information about our snorkeling offers you find here.
Full set equipment with dive computer
Full set equipment without dive computer
We use  Cressi and Aqualung Regulators and BCDs as well as Suunto Zoop Novo Dive Computers.
Find additional information and reviews about our Aqualung regulators and Suunto Zoop Novo dive computers.
Choose of 6 different dive sites in Padang Bai. From beautiful 'Blue Lagoon' with nice coral blocks and often turtles, over an amazing wall dive at 'Drop Off', or do you prefer muck diving at 'Jepun'?  There's a great variety of choice  for every taste – just around the corner. Easy for beginners & suitable for snorkling.
Min. amount of divers:           1
Min. certification:               OWD
Snorkeling:                          Yes
TULAMBEN - USAT LIBERTY WRECK
Dive the world famous USAT Liberty Wreck with us. Sunk in 1963, the wreck is now totally covered with beautiful coral and home and shelter for an enormous variety of sea life. Find big groupers, as well as turtles and tiny frogfish there. Great for beginners to advanced divers. Also a top snorkeling spot.
Min. amount of divers:            2
Min. certification:               OWD
Snorkeling:                           Yes
The dive sites around Amed are excellent for macro photography and muck diving. You can find rarities like Ghost Pipefish, Pygmy Seahorse and even Mimic Octopus. Furthermore the 'Japanese Wreck' lies there, in just 5m depth.
Min. amount of divers:               2
Min. certification:                   OWD
Snorkeling:                              No
The two small islands 'Mimpang' and 'Tepekong' are located north of Padang Bai. They provide a breathtaking array of sea life, including White Tip Reef Sharks and – if you are lucky –  even the mighty Mola-Mola!
Min. amount of divers:               2
Min. certification:                   AOWD
Snorkeling:                              No
A little bit further north than Mimpang & Tepekong lies Gili Biaha, another great dive site with a good chance to see White Tip Reef Sharks. When the conditions are good you can even enter a cavern at 12m depth, where the White Tips like to take a nap.
Min. amount of divers:               2
Min. certification:                   AOWD
Snorkeling:                              No
MANTA POINT - CRYSTAL BAY - NUSA PENIDA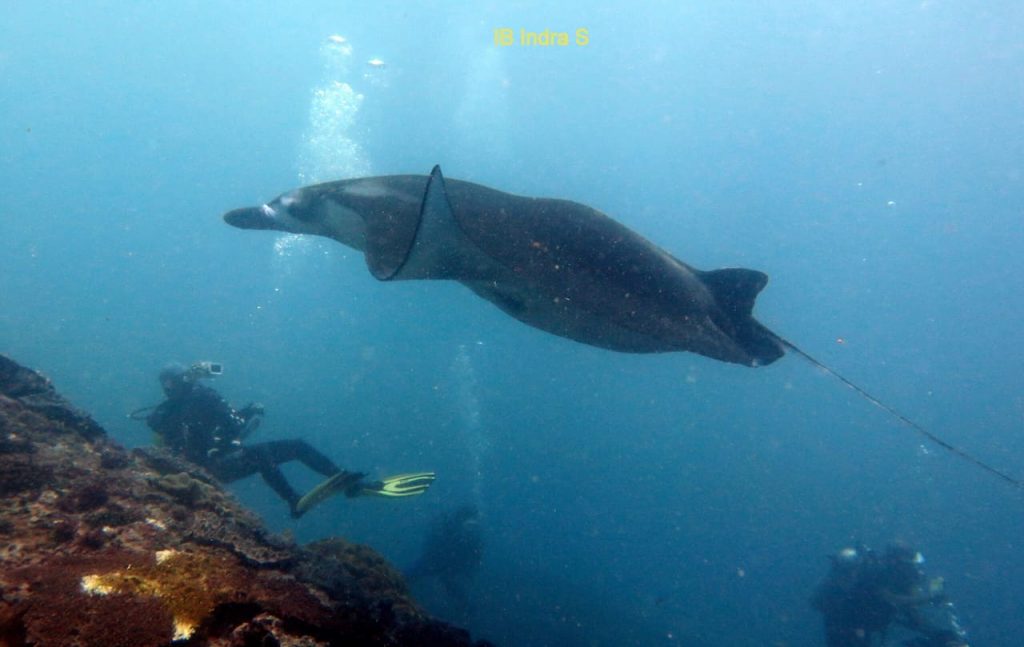 One of Bali's absolute highlights no one should miss is the famous Manta Point at Nusa Penida's south coast. All year round, the majestic Manta Rays visit the cleaning stations there, to get a free Spa treatment. Sometimes you can even spot a Mola-Mola in the blue. The 2nd/3rd dive will be at Crystal Bay (also a chance to see Mola-Mola during the season) and/or Nusa Penida North where you have a relaxing drift dive over a beautiful, intact coral reef. 
Min. amount of divers:               3
Min. certification:                   OWD
Snorkeling:                              Yes
KUBU - NORTH BALI
(Special request only)
In 2012  a Dutch built patrol boat known as 'Boga Wreck' was purposely sunk just 25m from shore in Kubu. Lying between 16m and 38m deep it's a fantastic dive site for advanced divers, providing cool swim throughs and being home for lots of nudies. Even Eagles Rays have been spotted here…
Min. amount of divers:      2
Min. certification:                   AOWD
Snorkeling:                              No